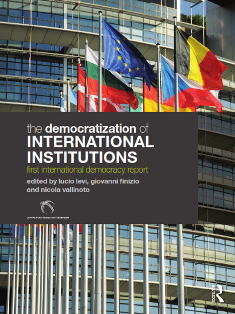 The democratization of international organizations
First International Democracy Report 2014
Eds. Giovanni Finizio - Lucio Levi - Nicola Vallinoto


Routledge, 2014


The democratization of international organizations is a theme increasingly debated all over the world. This is the first work on international democracy that systematically assesses the dynamics of democratization affecting most international organizations. Consisting of chapters written by experts in the field, it integrates a large number of case studies with incisive and wide-ranging analysis to produce a volume unparalleled in comparative scope.
Each chapter provides a wealth of analysis of the democratization of the major international, regional and interregional institutions of the world, including their history, structure and development with regard to power and governance, judiciary, human rights, gender issues, supranationality, relations with civil society, etc.
The book is the result of a transnational research project promoted by the Centre for Studies on Federalism, involving more than 30 researchers from all over the world.
---
Table of Contents 
PART I


1. Preface  - Giovanni Finizio, Lucio Levi and Nicola Vallinoto 
2. Introduction - Lucio Levi
3. The Legal and Political Status of International Parliamentary Institutions - Claudia Kissling


PART II - Universal Organisations


4. United Nations - Giovanni Finizio
5. World Bank - Tina M. Zappile
6. International Monetary Fund - Jonathan R. Strand
7. World Trade Organization - Alexia Herwig  
8. International Labour Organization - Jill Jensen
9. Inter-Parliamentary Union - Claudia Kissling


PART III - Regional Organisations 

Europe


10. The Democratisation of the European Union: Historical and Theoretical Aspects - Mario Telò

Box 1. Benelux
11. European Union: the Process Towards Supranationality - Lucia Serena Rossi
Box 2.  Central European Iniziative
12. The Democratisation of the European Union - Dawid Friedrich
Box 3. Nordic Council

Africa


13. African Union (AU) - Stephen S. Kingah
14. Economic Community of West African States (ECOWAS) - Hélene Gandois
15. West African Economic and Monetary Union (WAEMU) - Kama Tapè Berengér
16. Economic Community of Central African States (ECCAS) - Angela Meyer
17. Central African Economic and Monetary Community (CAEMC) - Angela Meyer
18. East African Community (EAC) - Korwa G. Adar
19. Southern African Development Community (SADC) - Andreas Godsäter
Box 4. Arab Maghreb Union


America


20. South American Common Market (MERCOSUR) - Mariana Luna Pont
21. Andean Community (CAN) - Dayanna Sanchez Rodriguez
22. Union of South American Nations (UNASUR) - Nicolas Comini
23. Central American Integration System (SICA) - Giannis Papageorgiou
24. Caribbean Community (CARICOM) - Tamara Brown-Onnis
25. North American Free Trade Agreement (NAFTA) - Jordan Bankhead


Asia and Oceania


26. Association of South-East Asian Nations (ASEAN) - Herman Joseph S. Kraft
27. South Asian Association for Regional Cooperation (SAARC) - Deepshikha Shahi
28. Gulf Cooperation Council (GCC) - Jordan Bankhead
29. Pacific Islands Forum (PIF) - Chris Hamer
PART IV - Interregional Organisations


30. Council of Europe (CoE) - Kundai M. Sithole
Box 5. Arctic Council
31. EU/ACP Partnership - Andrea Cofelice
Box 6. International Organization of La Francophonie
32. League of Arab States (LAS) - Nadine Mourad Sika
Box 7. Council of Baltic Sea States
33. North Atlantic Treaty Organization (NATO) - Marek Madej
Box 8. Organisation of Black Sea Economic Co-operation
34. Organization of American States (OAS) - Marcos Aurélio Guedes de Oliveira
Box 9. Organization of Islamic Cooperation
35. Organization for Security and Cooperation in Europe (OSCE) - Julinda Beqiraj
36. Commonwealth of Independent States (CIS) and Eurasian Economic Community (EurAsEC) - Alexander Libman


PART V


37. Autonomous Interparliamentary Assemblies Edited by Laura Roscio
Amazonian Parliament
Asia-Pacific Parliamentary Forum
Association of Senates, Shoora and Equivalent Councils in Africa and the Arab World
Baltic Assembly
Central European Initiative
Indigenous Parliament of America
Inter-Parliamentary Assembly on Orthodoxy
Inter-Parliamentary Forum of the Americas
Parliamentary Assembly of the Mediterranean
Parliamentary Confederation of the Americas
PART VI


38. Civil Society Movements and Campaigns for International Democracy - Nicola Vallinoto



---