Campaign for a pan European referendum
 Summary
At its last meeting on 1/2 July 2006 in Vienna, the Union of European Federalists Congress adopted a resolution on the European constitutional process with which the UEF decided to launch a new campaign* for a European-wide consultative referendum on a European Constitution to be held at the occasion of the 2009 elections to the European Parliament.

Who supports the campaign
The campaign was launched (official start: 17 March 2007 in Berlin) jointly by the Union of European Federalists (UEF) and the Young European Federalists (JEF). The campaign calls for a consultative referendum on the constitution in all EU member states at the time of the next European elections. The campaign website will invite one million citizens to register their support for the European referendum in the coming months.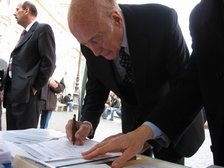 Among the personalities who supported the European referendum:
Valéry Giscard d'Estaing, president of the European Convention, signed the petition during a street action in Rome, Italy (marking the 50th anniversary of the Rome Treaties).

Gérard Onesta, French MEP from the European Greens and Vice-President of the European Parliament officially supports the European referendum campaign.

Jürgen Habermas, the famous German philosopher in favour of a Euro-wide referendum; read the interview at europeanreferendum.blogspot.com
The campaign objectives

The aim of the campaign is to show that there is widespread public support for the idea of a European referendum. In the text of the European constitution, there is a clause that sets a target of one million signatures for a new principle of direct democracy. While this clause is not of course in force, because the constitution itself is not yet in force, one million has become recognised as the appropriate number to demonstrate popular support.
The European referendum should be judged positive if there is the support of a majority of European citizens, with all the votes in every member states added together, and also if there is a positive result in a majority of member states.  The EU is a union of states and citizens, so it is fitting that a double majority should be required in support of the constitution.  The constitution would only come into force in those countries that have voted Yes.
To read the Campaign Newsletter of 14 June 2007, please click here. 
For more information about the legal and political implications of a pan-European referendum, please click here. This report has been prepared by Paolo Ponzano, Jacques Ziller and Samuel Pii on 9 February 2007. It was published by the Robert Schuman Centre for Advanced Studies.
For further information, please click on the link below:
The appeal
Petition to the European Parliament, to the Heads of State and Government and to the European Commission.
I demand a European consultative referendum on the European Constitution, to be held on the same day as the elections to the European Parliament in 2009.
Official web site (no more active)

www.europeanreferendum.eu
* the Campaign focused on the European consultative ballot in 2009 is a new phase of the Campaign for a European Federal Constitution